WiFi Internet Facility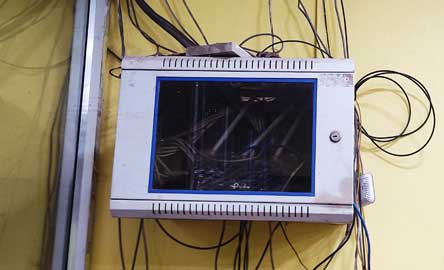 ICT tooled classrooms and easy access to computers and internet facilities for all the stakeholders (all academic and nonacademic sections) of an educational institution is the demand of the time .Barasat College is working on that direction.
E-administration is functional since the year 2008 with the initiation of' the Student Management System' for maintaining students' related data. A number of computers withscanning and printing facilities had been added in later years to assist it. The software FINAERP is used for maintaining the accounts and related works since 2011. Since 2017 students' admission process too is partially computerized. The software 'Admitek' is in use for this purpose. In near future it will function in fullest potential for proper and smoothrunning of the system. Recently the college authority introduced another software 'CampusXpert' for online admission of the students into each semester. With this both the payment of fees and generation of money receipt is possible using online cloud data provider.
Computerized Biometric attendance for both the teaching and non-teaching staff is in practice since2016. Recently in 2022 the upgradation is complete and an ew system has been installed.
Barasat College has set the target for the development of one central e-library. Presently software 'Koha' with version 3.14.06 is in use for cataloguing the books since 2015.In near future its utility will be extended to lending service too.
The college has opted for e-security and e-surveillance, providing better and efficient security system to all his stakeholders. All the classrooms, seminar rooms, library, Teachers' sectionand administrative section is connected under CCTV surveillance system.
Wi-Fi facility is available in the campus. Initially it was only 10 mbps in 2015 and the provider was DSN. Regular updation into higher configuration was done in phased manner with the expansion of e-services. In 2017 'Meghbela' broadband service was introduced and the speed limit was 20mbps. It was same till 2020. Further increase to 50mbps speed limit was introduced in 2022. Library uses a separate wi-fi connection and the computers are connected through LAN. In 2021 another separate wi-fi connection, JIO with a speed limit of 20 mbps has been introduced in the Distance Education Cell(RBU)of the college.